Hiiii everyone!
Today baby L has her 6 month appointment, and I have a bit of a girls' night tonight (clothing swap I am helping organize). It should be a good day!
*****
Today I am just going to share my thoughts about something I did/something that happened Sunday & Monday. I didn't want to make it a big deal (because it's not) but I thought it'd be helpful to share my experience with you all.
And we're talking food, so I am linking up with Jenn's cyber eating party!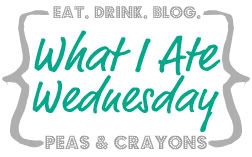 Dessert Threshold
On Sunday evening we went to a dinner at our friends' parents place (with baby L sporting her huge bow). It was an outside affair with a bunch of people, and it was a buffet style dinner. After dinner the desserts (yes plural) were brought out. One of my favorite parts about dinner!
Am I right?!
Well, I wound up eating 1. a piece of a very decadent chocolate cake, 2. a piece of chocolate chip cookie cake, 3. a piece of rhubarb crumble, 3. a scoop of raspberry dark chocolate ice cream, and had 4. several bites of some dessert (not sure of the name). I wish I had taken pictures of it all, but I ate it with baby L sleeping in my arms. Yes I am talented, but no, I only have 2 hands. 😉
That dessert may sound like a lot (or a little) to you, but let me tell you, it was all delicious! And I enjoyed every bite (well, maybe the last few not so much).
However, on Monday?
I was sluggish, tired, and just not as energized as I usually am. (For the record, baby L slept amazing that night, only waking up her normal 1 time to eat so I know it's not because I didn't get enough sleep). I didn't teach my classes very well/everything felt off.
So guess who ate too much dessert–going past her dessert threshold–and paid for it the next day?
THIS GIRL.
A few thoughts about this experience I wanted to share with ya:
I like dessert. I like sweets. I will continue to eat them. What I don't like: when I eat a bit too much of it and it makes me feel yucky. I don't often go overboard, but for some reason, that evening, I did.
I fully and consciously made the choice to eat that much dessert. No bingeing or even feeling guilty about it. I definitely was a bit frustrated with myself the next day, but I was NOT like "I'm never going to eat dessert again!" <—a huge change from how I used to be back in the disordered eating days
I don't see food as black & white and I don't label food as good or bad, BUT this experience reminds me yet again that how we fuel our body does matter! For myself and my body, I can feel/be just fine with a small dessert or two per day, but more than that? It just makes me feel sluggish.
I realized I have a slightly lower threshold for baked goods (cookies, cakes, crisps, crumbles, etc.) than I do for ice cream/fro yo/gelato. I have no idea why that is!!
****
Have a GREAT day!! <3
Do YOU have different dessert thresholds??! What is YOUR all-time favorite dessert??! Chocolate chip cookie or ice cream???!