Hey!!
Happy FRIDAY
I am glad we're all of the same opinion. If your dreams don't scare you, then honestly, your dreams are not BIG enough.
LOVE the comments in that post–so check those out.  You guys are an inspiring bunch!
******
Did ya all know the Olympics start in a week?!! I am SO.EXCITED.
I LOVE the Olympics. Love them.
I remember as a little girl just being mesmerized by the athletes' ability to do what they did, and to do it SO well. It was fascinating to me then and it still is.
Funny story: I did musicals in HS (I was a thespian–an actress and dancer in the shows, NOT a singer). When the 2002 Winter Olympics were going on, the show I was in was going on as well. I remember very clearly watching the skaters skate (my favorite sport to watch in WO is the ice skating, and Michelle Kwan will always be my favorite), in between acts.
Well, the final skating session happened while I was on stage, and when I returned, I burst into tears when I saw that Michelle Kwan had been ousted (yet again) by a younger skater (Sarah Hughes this time, Tara Lipinski in 98′).
Yah. Dramatic much?! You guys don't even know how much I respect and admire Michelle Kwan. Such a talented athlete and skater!
Anyways. The Olympics mean a lot to me, and so I am totally nerded out for next week's opening ceremonies!
Here's my "Love the Olympics" Survey –all opinions are my own. 😉
***"Love the Olympics" Survey***
Favorite Olympic Sports to Watch
Winter: Figure skating-singles & pairs, downhill skiing, and ski jumping
Summer: Gymnastics, swimming, diving, and hurdles
Favorite Athletes
Winter: Michelle Kwan
Summer: Michael Phelps, Dara Torres (so sad she didn't make the team!)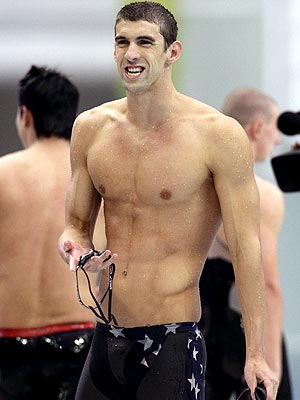 Most Excited Race/Game to Watch
Winter: American figure skaters against the Russians.
Summer: Michael Phelps possibly beating everyone again. Oh, and Kelli Wells' 100 meter hurdles.<–she has a heartbreaking story and I am SO proud of her for going for her dreams and making the Olympic team.
Most Boring Sport to Watch
Winter: Speed Skating
Summer: Archery
Toughest Sports to Compete In (in my opinion)
Winter: Downhill skiing
Summer: Triathlon, Marathon
Who I Root For if No American is Racing
Winter: the Swiss
Summer: the Swiss (oh wait, they hardly have anyone. hah)…… the Australians
Where I am Going to Watch the Olympics
Winter: at the gym on the TVs
Summer: at the gym on the TVs and on my computer-streaming it
What Olympic Sport I Wish I Had Been Good At
Winter: Figure skating
Summer: Gymnastics, diving
(hmmmmm, think my training in Ballet has anything to do with that?!)
What Olympic-themed Food I Will Make
Winter: probably none
Summer: most likely none
(HAHA) Someone want to me make me these & send it to me? 😉
Which Olympic Sport I Could Pretend to Train For
Winter: Downhill skiing
Summer: Swimming or the Triathlon
(Buuuuutttt let's be honest. That would be in my dream world.)
******
Well, I hope that got you all psyched for the Olympics! 7 days and counting!!
I am off to work, teach Zumba, work, and then get my life together before the crazy-busy weekend hits (we've got family in town. Wheeee!)!
Have a GREAT Friday <3
What Olympic sport is YOUR favorite to watch?? Which athletes do YOU love to watch and/or follow?? Friday plans YOU guys??